Serious Rooms
Random Universe
---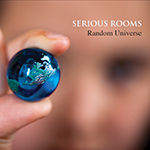 Much like the book which inspired the band's name, Serious Rooms is, in many ways, a product of the beat generation.
When principal songwriter, Sam Anderson first picked up Jack Kerouac's On the Road, he was still a boy and couldn't fully appreciate the author's story of longing for belief and meaning in life. When he returned to the book many years later, older and wiser, it resonated with him in new and profound ways. Those same themes are at the heart of "Random Universe", the debut album by this Portland four-piece.
"I was reading a passage from the book's first chapter and came upon the expression, 'serious room' ", recalls Anderson. "I immediately thought to myself, 'Serious Rooms – what a great band name!' Life, in many ways, can become a series of Serious Rooms, where we may feel trapped and restricted. Music, as an art form, conveys a sense of freedom, and awakens us to possibilities we hadn't originally considered; 'See solutions that you missed…' as it were. 'On the Road' is all about that sort of freedom; it's about taking flight from all the Serious Rooms that would otherwise suffocate us."
Formed a little over a year ago, the band features veteran Maine musicians (Sam Anderson, rhythm guitar and lead vocals; Chris Plumstead, lead guitar; Mark McDonough, bass; and John Nunan, drums) brought together to deliver Anderson's potent blend of literate guitar pop. Although a confirmed "Beatlemaniac", Anderson asserts that Serious Rooms are by no means a 60′s tribute band. They pull their influences from a disparate grab bag where Big Star, The Byrds, The Cars, Squeeze, the Kinks, Elvis Costello, Crowded House, and of course, the Beatles all feature strongly.
Drummer/producer John Nunan takes up the story. "With the help of engineer Todd Hutchisen at Acadia Recording, our goal was always to make a timeless, classic-sounding album. We used vintage instruments, and always gave consideration to the creation of the album as a consistent piece of work rather than just a series of songs. We tried to create an arc and flow to the album as a whole, studying other classic albums for cues on what worked and what didn't. Sam had so much material, which gave us the luxury of going through and handpicking the best songs, while also showcasing a great diversity of style."
"We hope we have succeeded in creating a record that is both fresh and familiar sounding at the same time," Anderson concludes. "We wanted to craft something that would reward repeated listening, and that would hopefully sound as good years from now as it does today."
We'd like to think that Kerouac himself would approve.
"Random Universe" is released on Cornmeal Records in August, and will be available at all Bull Moose branches and online retailers.
.
Tracks:
01) The Answers
02) All of the Above
03) Speak My Language
04) Live Through This
05) Hey Children
06) Idle American
07) Walking in the Deep End
08) Dreaming in Real Time
09) Won't Be Afraid
10) Random Universe
11) Big Picture
---
Purchase: www.cdbaby.com
Artist Website: www.facebook.com