Soule Monde
Soule Monde
---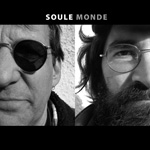 Soule Monde is a no-frills Hammond organ and drums duo based in Burlington Vermont. Ray Paczkowski (organ) and Russ Lawton (drums) met in 2002 when they both were members of The Trey Anastasio Band (the famed Phish guitarist's ongoing solo project) and they have been playing together ever since. For the early years the duo was simply known as "Ray and Russ" but as the band evolved, so did the name. Soule Monde (pronounced SO-LAY-MAHN-DAY) is a mash-up of Lawton's middle name (Soule) and Paczkowski's first name (Raymond). They recorded their debut CD over the spring-summer of 2012 in Vermont and it will be formally released by Maine-based Cornmeal Records on November 15, 2012 with a gig at Nectars in Burlington VT.
The group's sound has been called "deep-funk improv" and all ten tracks originated as improvisational jams that grew into finished compositions in the studio. Each of the songs is titled after important or influential musicians in Ray and Russ' lives.
Paczkowski and Lawton, who both were born and raised in Massachusetts, became members of Anastasio's band more than a decade ago with Lawton joining in 1998 and Paczkowski joining in 2002. Their collaborations with Anastasio include the CDs "The Horseshoe Curve", "Plasma" (live) and "TAB at The TAB". They are also featured on the DVD "Trey Anastasio Live with special guest Carlos Santana" and have appeared at such major festivals as Bonnaroo and Austin City Limits, as well as all the major late night shows, from Letterman to Leno to Conan.
Lawton is well known for co-writing songs with Anastasio that appear on the Phish "Farmhouse" album (Gotta Jibboo, Sand and Grammy-nominated First Tube) as well as other Phish songs (Push To The Day, Mozambique, Melinda and Drifting) and some of his other notable credits include composing music for the independent movies "Mud Season", Mike Gordon's "Outside Out" and the LA movie "Left Hand Path". He has toured with Gordon Stone and is also renowned for his work with Strangefolk, Dirigo and Grippo Funk Band.
In addition to playing keyboards with the Anastasio Band, Paczkowski has played prominently with Dave Matthews and Friends, performing on SNL and Austin City Limits as well a show at Bonnaroo in front of 80,000 fans. He is also part of the jazz trio Vorcza.
Soule Monde will be out playing in support of their debut CD at festivals and venues all around New England throughout 2012-13.
Tracks:
01) Bernard
02) Miss Miriam
03) Bootsy Bonham
04) Lasisi
05) The Story
06) Tango
07) Slide B
08) Whassat
---
Purchase: info@cornmealrecords.com
Artist Website: www.soulemonde.com