Joe Boucher
Retrospectacle
---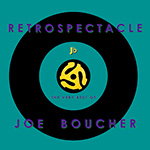 Joe Boucher was a founding member of the Portland-based power pop band "The Frotus Caper" along with Chad Walls, Chris White, Dave Ragsdale, Steve Hodgkin and producer Jonathan Wyman. The five members of Frotus were all prolific songwriters each vying for space on their four albums ("Lingo" 1999, "Paper, Scissors, Rock & Roll" 2001, "Lose Your Cool" 2003 and "Danger School" 2004). Frotus split in 2006 while recording their fifth album (they were always recording an album) and Chad and Chris went on to release their own tracks as "Hotel Arrival" while Joe's have sat shelved until now.
Joe took a long break from playing in any formal capacity but would quietly sit in with his former band mates on recording projects as a side man. He remained connected to music through his job as Concert Manager with The Portland Symphony Orchestra and all of these musical experiences were synthesized in Joe's creation of an orchestral "Pops" show called "Piano Men – The Music of Elton and Billy" which, as the name implies, is a concert featuring a rock band and full symphony orchestra showcasing the greatest hits of Billy Joel and Elton John. "Piano Men" premiered at The State Theater in Portland in 2011 featuring original Billy Joel drummer Liberty DeVitto and Joe now travels around the U.S. and Canada performing the show with professional orchestras along with Frotus band mate Steve Hodgkin on drums. "Piano Men" will perform two concerts with the Portland Symphony at Merrill Auditorium in November 2014.
"Retrospectacle" complies the best of Joe's Frotus Caper output along with unreleased songs recorded just before the breakup. Highlights include "Solas", which first appeared on "Lingo" but was re-recorded in March of 2014 by Jonathan Wyman featuring a new string arrangement by cellist Kevin Oates. Billy Joel's "The Ballad of Billy The Kid" is taken from the 2011 State Theater concert featuring Liberty DeVitto on drums and The Southern Maine Symphony Orchestra conducted by Robert Lehmann (it appears on this CD for the first time). "Cool Is A Curse" is still played regularly on WCLZ-FM in Portland.
Tracks:
01) Hello Cruel World
02) English Penny
03) The Chapter's Over
04) Here To Stay
05) Cool Is A Curse
06) Reason
07) I'm Not Fun
08) We're The Same
09) This Would Be Perfect
10) So That's Your Life
11) Olly Oxen Free
12) Solas
13) Pamela
14) Been Here Before
15) I Promise You
16) Call Me Maria
17) The Ballad of Billy the Kid (Featuring Liberty DeVitto)
---
Purchase: www.bullmoose.com
Artist Website: www.pianomenmusic.com