Dirigo
Jamericana
---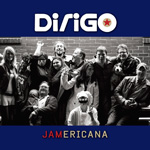 Dirigo is Luke Patchen Montgomery (Strangefolk), bassist Erik Glockler (Strangefolk), guitarist Steve Jones (The Boneheads) and drummer Russ Lawton (Strangefolk & Trey Anastasio Band). These guys have been playing together on and off over the past 10 years under various names and decided on the name Dirigo in 2010.  This Latin word was chosen because it's the Maine State Motto (meaning "I Lead").
Dirigo's sound was aptly described by one writer as "The Stones jamming with The Allman Brothers at Willie Nelson's barbecue."
Dirigo was voted Best Jam Band in Portland Phoenix's Best Music Poll 2012, and were featured in the December 2011 Relix Magazine as one of "Five Bands You Should Know About" and in Relix's "On The Verge" Dec 23, 2011.
Dirigo's inaugural album Jamericana was reviewed in The Portland Press Herald Jan 2012,Vermont 7Days in November 2011, and the Portland Phoenix in September 2011. The band has been featured on radio interviews with Mark Curdo of WCYY(Maine), Charlie Gaylord of WBLM (Maine) and Arty LaVigne of WDEV (Vermont), and on the TV program 207 and Private Stage.
Tracks:
01) Wrong Way
02) Before the Moment's Gone
03) Like You Said
04) Sheep Without a Shepherd
05) Day Job
06) For Jenny (Honey)
07) Movie in Your Mind
08) Used to Know
09) Don't Play Me
10) Please Please
11) Scene Fades to Fade to Black
---
Purchase: www.cdbaby.com
Artist Website: www.dirigomusic.com