Darien Brahms
Dogwood
---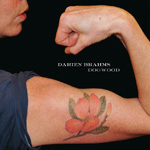 Cornmeal Records is proud to announce the June 26th, 2012 release of "Dogwood", the new album by Darien Brahms. Brahms, one of the most popular performers on the vibrant Portland, Maine music scene, is releasing her third CD on Cornmeal and her first since 2008's acclaimed "Number 4". Drawing on the wide variety of influences and styles that have made her a local legend in New England, Brahms returns after a 4-year hiatus with her most powerful work to date. 
 
There will be a CD release party to officially kick off the release on June 22 at The Big Easy in Portland Maine.
 
There's a common theme that runs through all 12 tracks on Dogwood, as Brahms explains: "Human beings and love songs, we go hand in hand. We are in love with the love song-hearing them, writing them, singing them-like death and taxes it is a thing we can always count on. Each song on this record reflects a different aspect of love I have experienced, from the heart palpitations of falling in love to the heart sickness of falling out, the ensuing cat fights, friends who choose sides, the kissing and making up or the real acceptance of the end and then moving on to another kind of hopeful flutter."
 
A six-time winner of the "Best Female Vocalist and Best Performer" award in her hometown of Portland, Brahms' distinctive style combined with her high energy live performances have landed her opening slots for the likes of The Violent Femmes, Townes Van Zandt, Daniel Lanois, Chris Isaak and Ben Harper. She released her first full length solo CD "Hello, Hello To The People" in 1992 and her second, "Little Bundle Of Sugar" (which featured the guitar of Marc Ribot), was released in 2000. In between, she fronted two rock bands and was the principle songwriter and front woman for the hugely successful Latin-jazz lounge quartet, The Munjoy Hill Society, who released their own CD in 2000 to critical acclaim. Her 2003 CD "Green Valentine" was named in 2010 by both The Bollard and The Portland Phoenix as one of the top ten Maine CDs of the decade. More recently she has contributed four tracks to the "Greetings From Area Code 207" benefit CD series, a track to the national compilation, "Calling All Kings And Queens" (on Mr. Lady Records).
 
"Dogwood" will be available at all Bull Moose stores, bullmoose.com, cdbaby.com, ITunes and at darienbrahms.com.
Tracks:
01) Queen of Porn
02) Big Red Flag
03) Yes Yes Yes
04) Jekyll and Hyde
05) Veni Vidi Vici
06) Ghost Town
07) Porcelain
08) Cat Dragged In
09) Black Eye
10) Drop of Honey
11) There's Something to be Said 
12) Clear the Way
---
Purchase: www.cdbaby.com
Artist Website: www.darienbrahms.com